Despite reports that footfall on the UK high street was down over the Easter weekend, we noticed that the number of products selling out online at UK retailers over the weekend (April 3 – April 6) actually climbed by 19% compared to the weekend prior. The median price of those products sunk by 2%, to $44.55, showing the Easter customer is price savvy.
UK online sell outs during the Easter weekend climbed by 19%
That bucked the trend from one year ago, when Easter was later in April, and the number of products selling out dipped by 37% over Easter weekend (April 18 – April 21) compared to the previous weekend.
The UK's successful online Easter wasn't echoed by US retailers, where the number of products selling out fell by 3.4% from the weekend before. Median price grew by 4% however, suggesting that US shoppers weren't reacting to promotional activity as much.
A look at our Visual Merchandising software confirms this: US retailers don't heavily promote Easter shopping, nor reference the holiday in their campaigns. Because of this, Loft's Easter campaigns stood out markedly. Their email newsletters over the weekend featured a "Cyber Spring" promotion, with a 50% off coupon code. Their attempt to drum up a Cyber Monday style retail event may be optimistic!
The difficulty of the Easter holiday is that it lies at a vulnerable point in the retail calendar – the number of new product arrivals have trailed off with Spring stock in store, but so too has the excitement of mid-season sales, introduced in March. The later Easter is, the more challenging the holiday can be. An earlier Easter this year helped UK retailers, particularly those who merchandised for it.
The later Easter is, the more challenging the holiday is for retailers.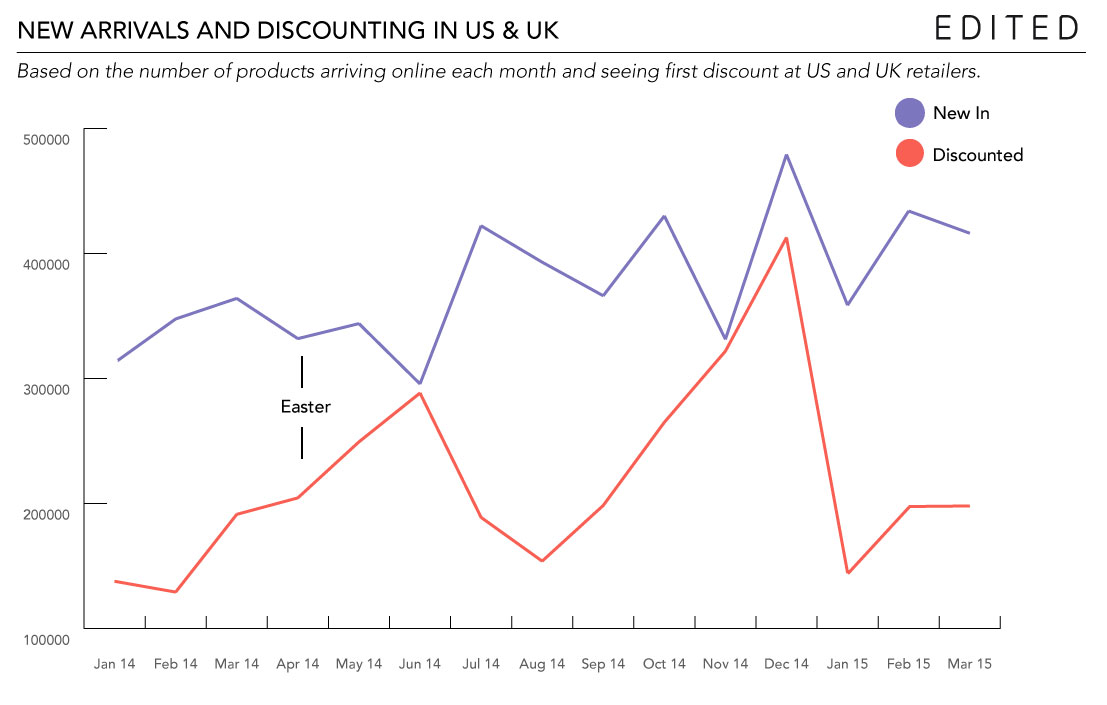 [editd-banner image="https://edited.com/blog/wp-content/uploads/2015/03/History_calendar-view.png" header="Want to know more about how EDITD can help your business?"]Request a live demo with one of our product specialists.[/editd-banner]