With just a few days of retailing before Thanksgiving, let's check in with the data to see how the market is getting ready for Black Friday.
As its stands, 37% of the U.S. market is currently discounted. The current average reduction is 46%.
Broken down by market, the luxury market on average is reducing by 51% and the mass market by 43%. Let's dig into that a little more.
1. Discounting is down
The number of products discounted this week is down by 38% on last year. That's pretty dramatic, and possibly election related. Both consumers and retailers are feeling cautious. Looking back on the quarter to date, there's been a 13.5% drop in reductions.
Here's how discounting looks at 13 of America's largest retailers: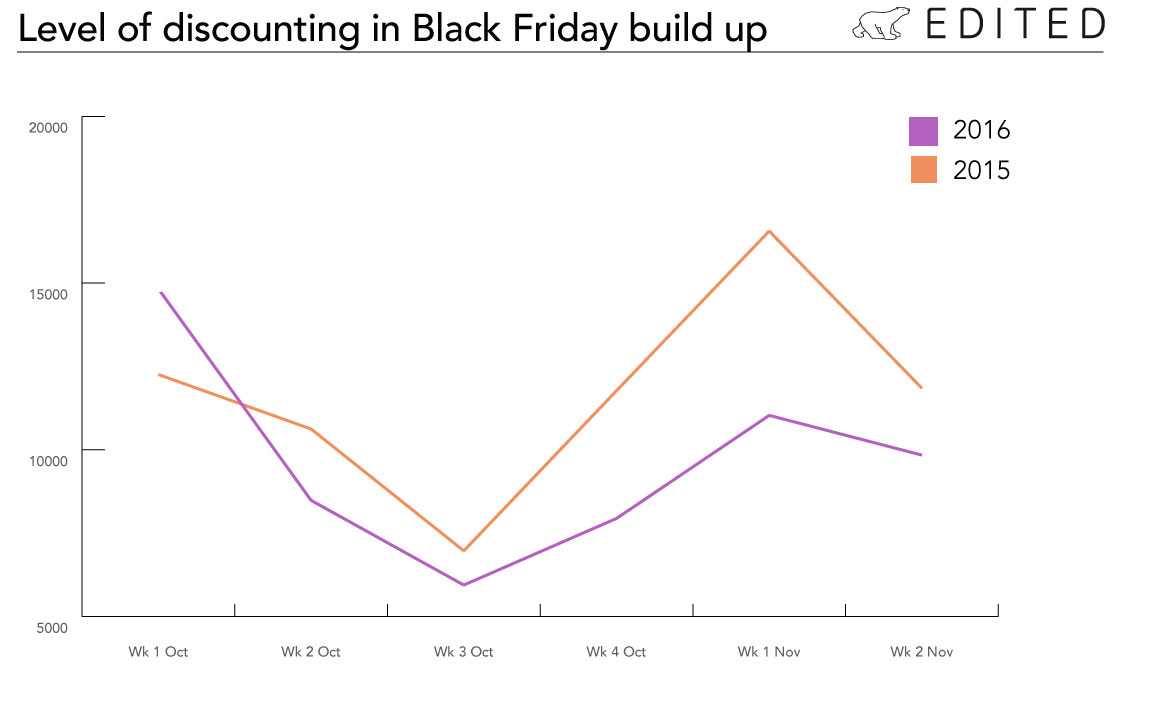 2. How the categories break down
Things have stayed relatively stable for the tops category in the past week compared to 2015 but it still represents about a third of all discounted products. Discounting on accessories has climbed however, representing nearly 6% more of all reductions this week. The bottoms category is also up, by 3%. Doing well are the dress and footwear categories, both seeing fewer reductions than this time last year.
The climb in accessories discounting puts the current average reduction at 34%. Breaking that down further, jewelry has the highest number of reductions (activewear lifestyles are impacting the costume jewelry category). Other retailers should think about kicking their own promotions into gear on jewelry and planning bundle deals to encourage shoppers to purchase more than one item, or combine with an apparel purchase.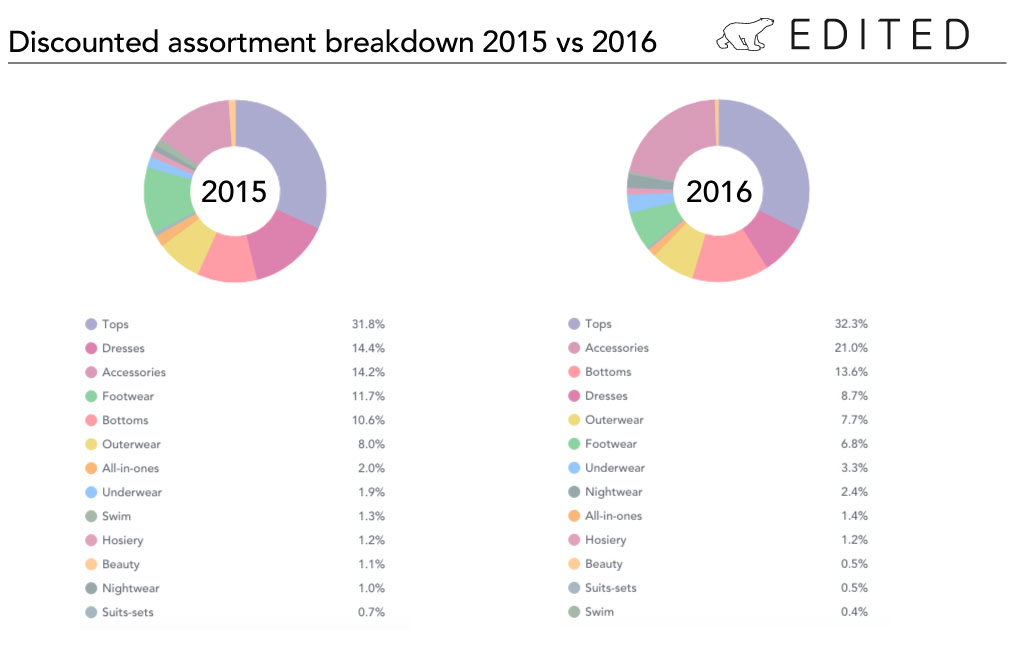 3. Michael Kors on a better footing
Part of the Kors strategy in righting the rampant discounting was to reduce the number of styles introduced at department stores. Data shows that in the last month, there's been a cut back in number of styles arriving by 12% compared to 2015. The result is a 50% reduction in the number of products discounted in the past week compared to last year. Michael Kors was the tenth most discounted brand of the week, having last year been at first place with its Michael Michael Kors line.
Instead, in the past week the most discounted brands have been Nike, Coach and BCBGeneration.
4. Who's talking about it?
Several retailers are already talking about Black Friday deals, including Walmart, Kohl's, Target, Sears and Dick's Sporting Goods who have all sent email newsletters referring to the event in the past week.
Walmart is allowing shoppers to preview Black Friday product and Target is taking it even further, allowing shoppers to browse the Black Friday catalogue and even shop some deals now, with a timed sale. Kohl's have announced its Black Friday deals will kick off on November 21 but allowed shoppers access to them on November 3. Dick's is doing daily featured deals in the build up to Black Friday – including up to $40 off select footwear (November 6) and $50 off all Reebok apparel (November 7).
At Amazon Black Friday deals begin on Monday.
5. What's moving?
Needlessly discounting items which will sell at full price is every retailer's nightmare during Black Friday. Use data to pinpoint what you can hold out on versus where the prices need to drop. Here are some of the products performing well at full price in this month:
Velvet dresses in rich colors (black, emerald, maroon)
Adidas footwear
Oversized parkas with faux fur trim (for men and women)
Backpacks (Adidas, Gucci, Herschel Supply Co.)
One-shouldered and cold-shouldered evening dresses
Novelty socks
Want to know more about Black Friday (or anything) in your market? We can help you with that! Contact us today for a demo.