These days you can't hold a match to a scented candle without the word hygge springing to mind.
Hygge (pronounced hue-guh), the Danish word used to acknowledge a moment or feeling of excessive comfort or charm, has snuggled out of its nordic roots and into the vocab of homebodies globally. And it did so with lightening speed, ending 2016 on the Oxford Dictionary's shortlist for Word of the Year, thanks in part to some serious publishing attention and the proliferation of cozy lifestyle porn on Pinterest.
It wouldn't be hard to get lofty and try to position consumer interest in hygge as a reaction to the psychological and economical turmoil of the times we live in. Just glance at the winner of the 2016 Word of the Year – post-truth – or hygge's shortlisted counterparts – alt-right, Brexiteer and chatbot – and you understand why the Danish word for lock-the-doors-crank-the-heating-get-pyjamas-on would suddenly find itself the recipient of mass appeal.
With hygge gaining press traction throughout 2016, how did retail respond? For certain, sales of candles, blankets and hot chocolate benefitted, but did apparel retail get in on the cosy vibes?
Although Vogue now declares hygge is over – are we really ready to go back out there? Brexit is real (realer than last year even) and things in the US–where hygge has received less airtime–are getting a whole lot more "stay-at-home" inspiring than when hygge first hit the scene.
The point being: is there untapped retail opportunity in consumers' homely tendencies? Lets take a look.
What counts as a hygge product?
A hygge product would be something that makes the wearer feel happy, relaxed, comfortable. Typically Danish design, especially for interiors and homewares, is unfussy and wrapped up in a soothing neutral palette. Hygge apparel might have a hint of decadence or frivolity, but the focus on the concept is that warm-feeling when the fire is crackling, the wine is poured and you don't have to go anywhere.
Immediately that flags up things like cable knits, pajamas, cashmere, shearling and cosy socks. A dig into those products over Q4 2016 shows that in the most part, retailers did not up stock numbers from Q4 2015.
In fact, numbers of cable knits were down by 27% and nightwear as a category down by 2%. Shearling fell by 13% and even cardigans suffered a 19% drop in newness.
Conversely, sell outs of those products grew. Consumers wanted this stuff. The number of shearling products that sold out in Q4 2106 was up 20% despite the 13% decline in newness. Cable knit demand grew, nightwear grew. The product that retailers did have worked, but what could have been achieved with a greater push? In short: retailers missed it.
Retailers continue to shy away from key hygge categories in 2017
Even an over-arching look at key hygge categories of nightwear, underwear and hoisery shows shrinkage for the quarter that just closed. And let's be clear, international friends, the weather in much of the US and most of the UK is miserable through Q1. Though Christmas was made for hyggerizing, new year could also do with a dose of cosy.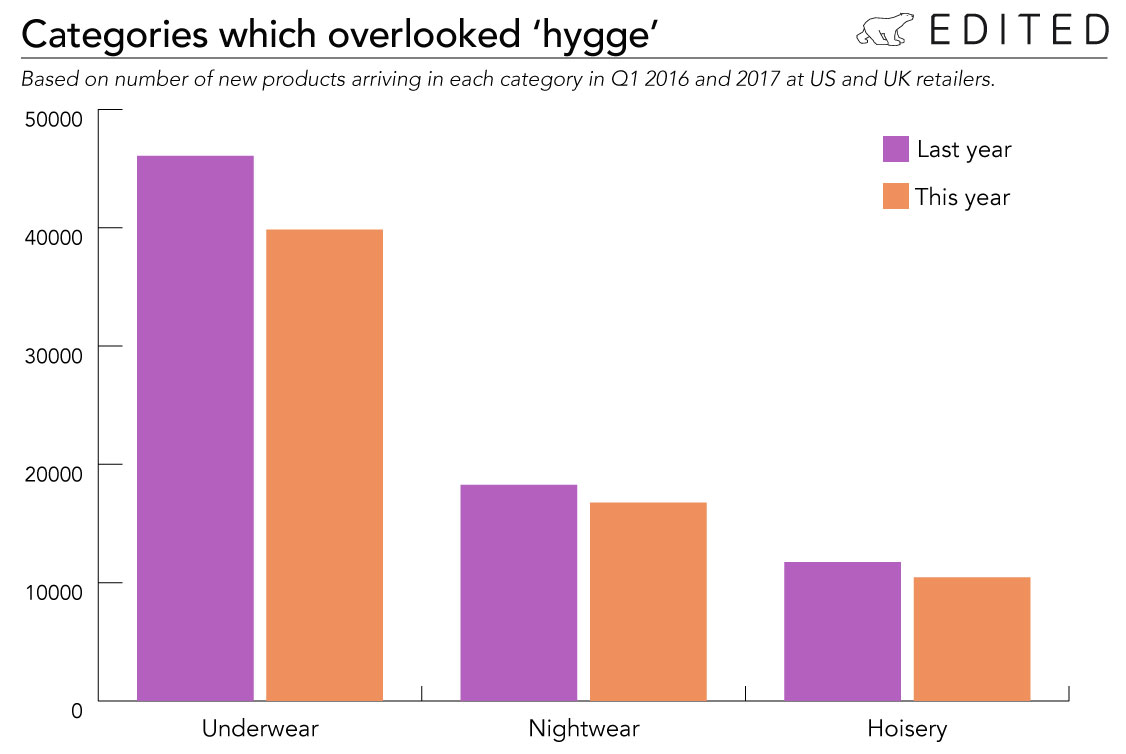 From a communications point of view, the word 'hygge' was only mentioned in 21 apparel retailer's newsletters globally last year, which seems like an oversight given that it was nearly word of the year. Only a quarter of the way into 2017, 19 retailers have mentioned the word, showing a good uptick. But not one that's necessarily reflected in product.
Without doubt, like millennial pink, this can be a merchandising trend. But the concept is so tied to a lifestyle trend that there's overlooked product potential here too.
What overshadowed hygge? Activewear
In 2016, activewear stole the show, and the attention retailers should have given the stay-home vibes. It's true that more people are wearing workout gear outside of the gym. But the garments miss the point of hygge. There's more than one way to dress for comfort, and there's a high chance the same consumer will want both. Let's re-open the conversation on loungewear that activewear muted.
Activewear muted conversation around loungewear, so did apparel retailers miss the hygge opportunity?
Do it like a Dane
But hygge isn't entirely without affect. Danish brands have seen strong growth over the last quarter – a selection of 10 (including By Marlene Birger, Wood Wood, Norse Projects and Ganni) showed an 11% growth in new product arrivals at US and UK retailers in Q1 this year compared to last.
Ganni grew most, by 106%, By Marlene Birger was up 60%, Won Hundred up 32% and Rains up 30%.
And though not Danish, Scandi compatriot Acne was the fifth best-performing brand in the premium/luxury market in the US/UK last year.
If Danish products are hot, what are their commonalities? For starters, the brands use a more limited color palette than the US and UK mass markets do.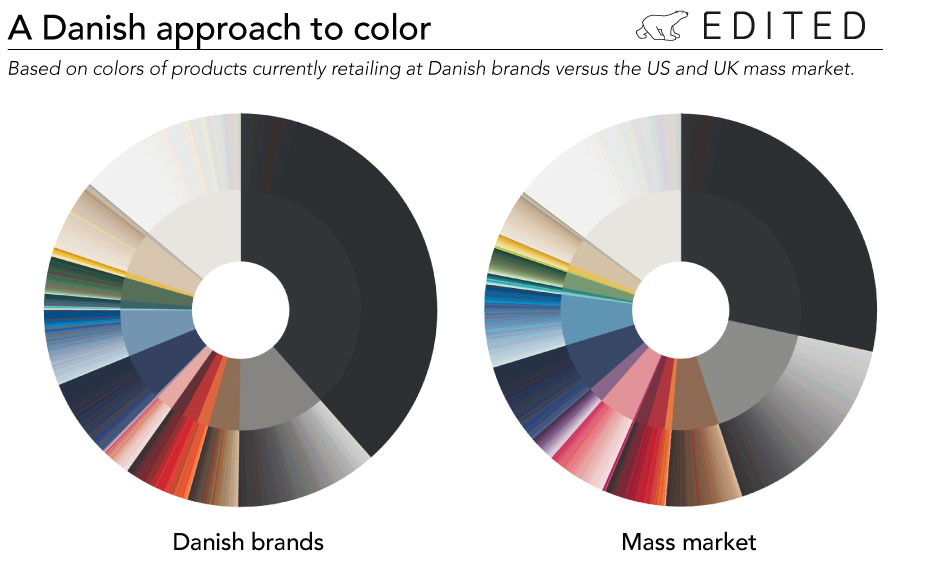 These brands all operate at fairly premium, yet accessible, price point too. At By Marlene Birger, the average is currently $224, at Ganni $192 and at Norse Projects $155. There's something hygge about a price point that requires a little consideration and a small indulgence.
Popular Danish brands also focus their attentions on a limited number of categories. The 10 Danish brands focus 10% of their combined assortment on knitwear, 8% on other tops, 18% on bottoms, 15% on dresses and outerwear and 9% on accessories. And beyond that, there's very little. Barely any footwear, underwear or nightwear. If we could hang lights around this market opportunity we would.
How to hygge in the heat
So we're talking about a whole lot of wool as Spring is really getting its act in gear. But there are ways to tap into that consumer demand through the warmer months.
If hygge focuses on fabrics that feel nice to wear, scrap the manmade fibers and instead go for seersuckers, chambray, linen and poplins. Stuff that makes you feel as cool and crisp as a Scandinavian. Think body-skimming floaty dresses, soft cardigans and wide pants that won't try and stop you from indulging in a little fika. By Marlene Birger currently has pyjama-style shirts and pants as well as lots of wrap dresses. And let's reinvigorate actual pyjamas while we're at it. Things that you can wear at home, during a nine-hour Netflix binge if you so wish, without feeling deeply blue or like a society-skirting hermit.
Anyway, the good news is the homespun look was key on Fall 2017's runways.
And back to what Vogue said – about hygge being dead. In its place they say the new Scandi term of 2017 is 'largom'. While hygge is about the feeling you get from certain environments, largom is about practising moderation. A 'not too much or too little' approach. Well, we're going to say in terms of consumer mood and lifestyle trends, it boils down to the same strain of products.
How hygge looks for Fall 2017: