For some, it's the retailing event of the year and it's fast approaching. Regardless of your stance on the event, the fact stands: Black Friday 2018 is just 28 days away. Gulp.
If you're in the retailing business you'll have a strategy for this time of year – no doubt one you've been working on for the last 361 days. As we enter into this crunch time, there are still tweaks you can make to save yourself from needless margin slashing.
Step one is to get clued up. Your best friend in the coming weeks is data. Right now you should be making sure items which have been unexpectedly hot in the last few weeks aren't lined up for 60% price culls over the discounting weekend. And keep an eye on what shifts your competitors are making.
Earlier we recapped everything you needed to know from Black Friday 2017. And this week we've been looking over the market to see early indications of how this year should fare.
The US market ahead of Black Friday 2018
So far in the US for Q4 2018 there has been 12.6% more first discounts applied than the same period last year. That builds on from Q3, which closed at 5.2% more first discounts than Q3 2017.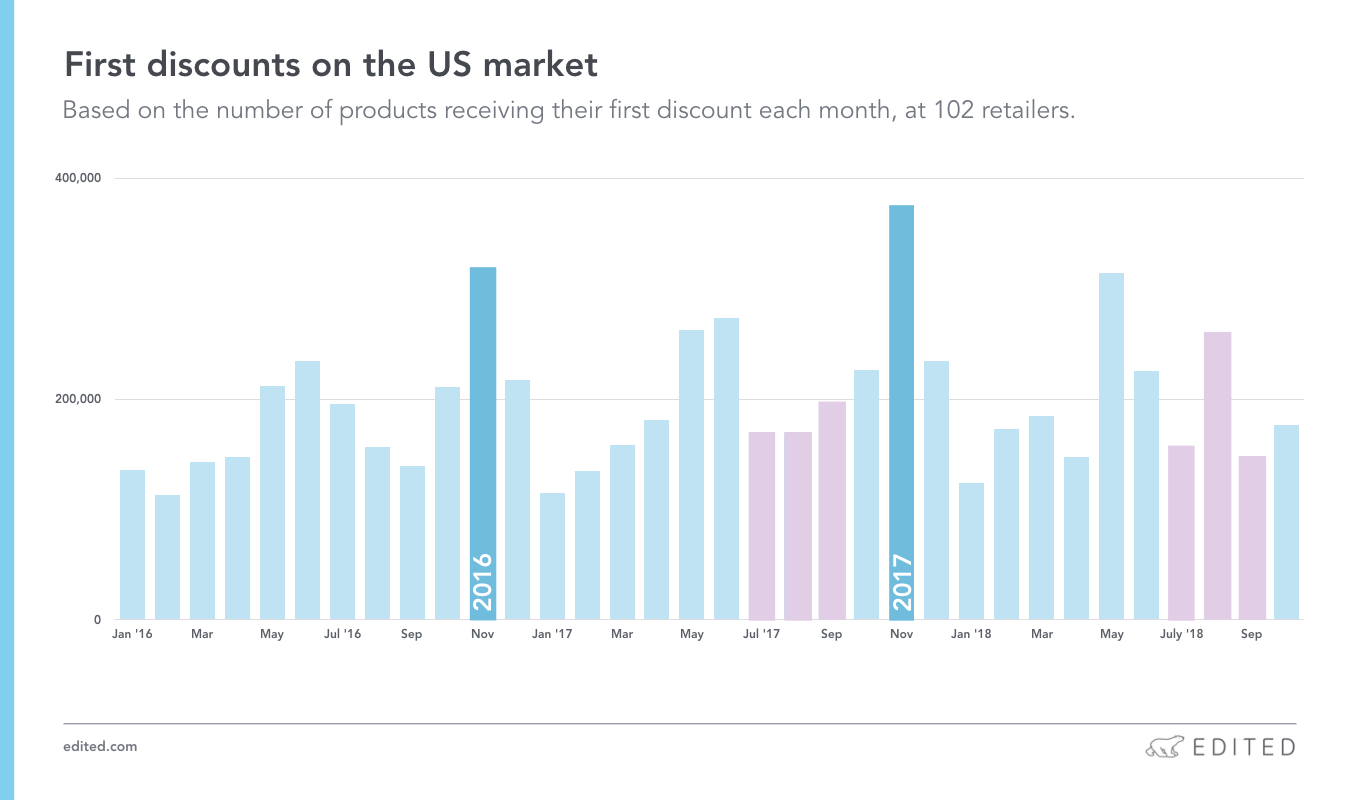 However, it's not all doom and gloom, as retailers have increased the number of new products by 9.3% so far this October.
That brings the total number of products available now up by 20% from a year ago. And the products are connecting well, with a 32% hike in sell outs.
State of play in the UK
Meanwhile over in the UK, which has been slower to join the Black Friday sale frenzy, there is 10% more product available now than last October, but new arrivals in October are down, by 7.2%.
The number of first discounts outstripped the US rate, up by 19% so far this quarter. And, despite that, the number of product sell outs fell 13%. It appears that the UK is becoming increasingly discount-resistant.
In both regions, the increased market sizes and increased first discounting stats suggest that too many retailers manufacturing for reductions.
Assortment shifts for Black Friday 2018
Looking at the way retailers have increased their assortments reveals some key areas for potential reductions over the holidays.
For one, there is 23% more swim in stock now than a year ago. Yes, consumers are holidaying more out of season, but it's not going to be a focus for their spend in November unless you tempt them with unmissable deals.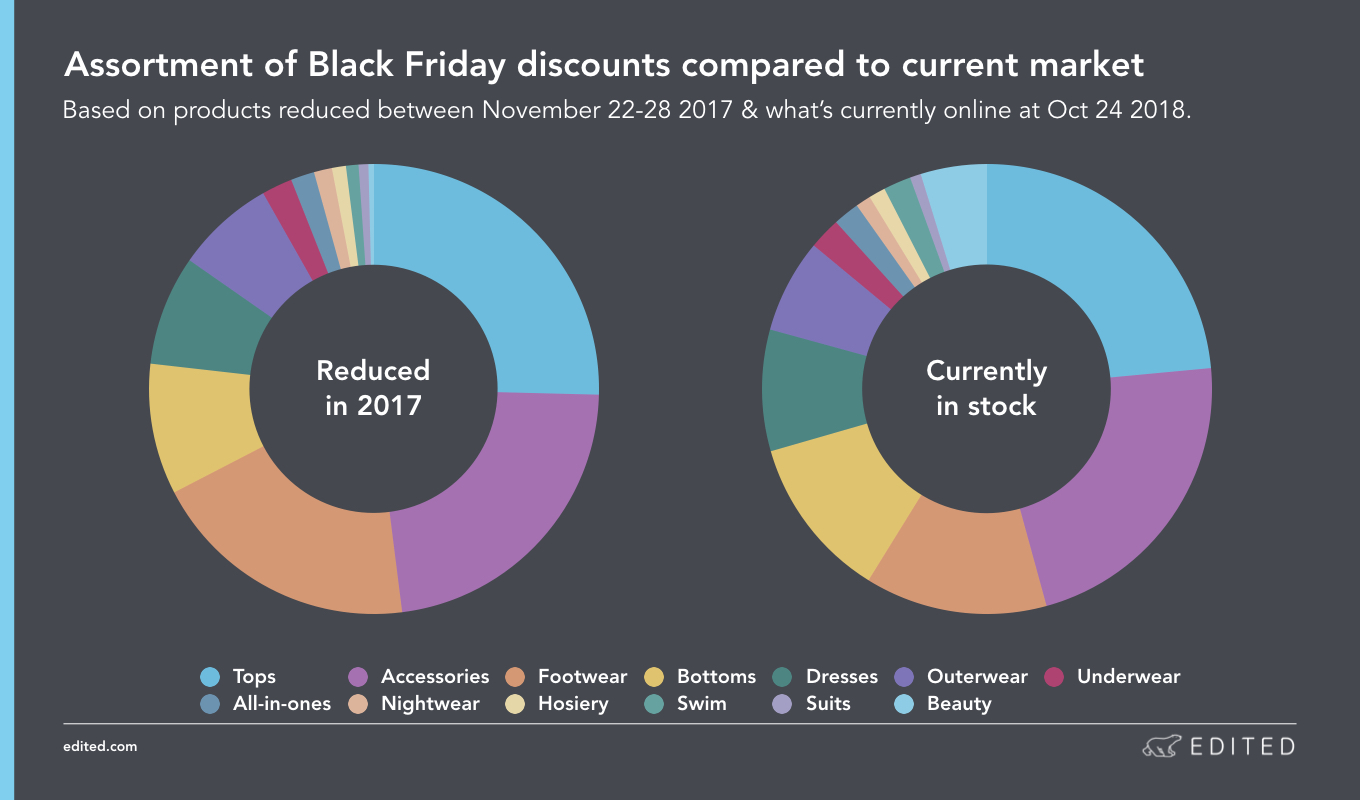 Strategise to avoid returns
More troubling is that bottoms are up by 17.6% and footwear is up 10.8%. Returns rates can be crippling for some retailers after Black Friday. Returns strike especially hard for categories which have many sizes, or are a more complicated fit – like footwear and pants.
Not helping this cause is an unfortunate decline in the number of products described as "one size" – there is 43% less product in stock this October than last.
Instead, be promotional around size-less items like bags (thankfully up by 12.4%), small leather goods, scarves, hats and gloves, or items where fit is less important such as nightwear, t-shirts and sweaters.
How much to reduce by?
In the US so far this October the most commonly-applied first discount is 20-30% off, representing 27% of discounted products. Retailers give the 30-40% and 40-50% brackets equal treatment, with both representing 21% of first discounts this month.
Looking at October 2017 we can see that first discounts are getting more aggressive. Last year the 20-30% bracket represented 32% of discounts applied, which means it shrunk by five percentage points this year. Meanwhile, the 40-50% off range accounted for just 18% of discounted products – a growth of three percentage points in 2018.
Those shifts early on in the season imply we're in for aggressive price cuts. Retailers need to be careful how they choose to compete with that.
Our advice is to pay attention to the products which don't need to have bumper price drops in order to sell. We can already see fast movement, at full price on these products:
Don't reduce:
Animal print
Statement sneakers
Ribbed/knit dresses
Midi dresses
Oversized tees and hoodies
Teddy textured coats and jackets
Longline cardigans
However, the stuff below has already been discounted by more than 20%, having only arrived at retailers since the start of September.
Prime for reduction:
Menswear:
Grey marl – bolder colors are performing better leaving this core item reduced.
Swim shorts – might have been late stock arrivals from summer.
Zip-through hoodies – half zip or no zip are preferred right now.
Boldly printed performance coats – high risk price point and the style isn't popular right now.
Womenswear:
Lightweight culottes – the silhouette is on-trend, but they're chilly for winter!
Tartan prints – checks are working but prints which veer too close to classic tartans are not.
Hanky hems – too witchy past Halloween!
Wide-leg animal print pants – a bold print and a bold shape is a risk too great for many.
Early Black Friday communications
Some retailers are already discussing their Black Friday 2018 plans in newsletter to customers. Our Visual Merchandising software gives us insight on exactly when retailers begin talking about discounting, and what on.
Jack Wills promises this year's Black Friday sale will be bigger than ever, and is encouraging its customers to sign up for daily deals. Old Navy is holding a "Black Friday pre-sale" from November 15-18 for its VIP cardholders. And Hudson's Bay was pushing "Canadian Black Friday" over Canada's Thanksgiving Oct 5-7.
Is red no longer the color of sales?
One interesting thing we spotted when looking at sale newsletters sent out in the past week, is just how dated the traditional red sale graphics look.
There's a really strong momentum for sale imagery in a new color: yellow. These are just some that were sent out in the last week:
Shoppers are absorbing more visual trends than ever before. For communications to really resonate and stand out from the masses, they have to pay homage to the striking look of the moment.
There's still time to update your Black Friday comms plan! And good luck to all retailers in the coming weeks!
EDITED users, log in today to read our latest retail reporting around Black Friday 2018.