The World's Most Hectic Discounting Weekend is over, and in its wake lies $5.27 billion in sales. Whether you spent the weekend doing your best to fill your pockets or, like me, fill your closet (five dresses, three pairs of shoes) – let's look at the data and make sense of it all.
So much happened that it's best we summarize for you. If you want to know more about anything in particular, just get in touch! If you're not already an EDITED user, drop us a note.
Okay, on to the data.
Key insights from the shopping holiday
In the U.S. there was a 20% lift in the number of products that were discounted for the first time this year versus last. The average reduction across the weekend was 44%, compared to 36% last year.
According to the National Retail Federation, consumers spent 3.5% less this year than in 2015. Taking into consideration that products were reduced by an additional 8.1%, consumers may have been willing to spend more, but retailers slashed their margins.
Meanwhile, the U.K. shrunk the number of reductions by 9.5%, with an average 37.7% off full price.
The Black Friday weekend saw an average reduction of 44% in the U.S. and 38% in the U.K.
Takeaways from the U.S. mass market
U.S. mass market discounting peaked on Sunday, when 50.6% of the entire market was discounted.
The average discount size was biggest on Saturday, at 45% off.
On Saturday 18% of the market was reduced by 50% or more.
Sell outs peaked on Black Friday itself, but most retailers were prepared with Black Friday stock, rather than dead stock sale items.
Black Friday and Cyber Monday look pretty similar in terms of average reduction and proportion of the market discounted.
In U.S. luxury
Luxury discounting happened hard and fast. On Wednesday just 17% of the market was reduced. By Black Friday it was 25% and on Cyber Monday it was 40%.
There was very little movement above 50% off. The majority of price slashes focused on 26-50% off.
On Cyber Monday 30% of the entire luxury market was discounted between 26-50%.
Luxury sell outs peaked on Cyber Monday.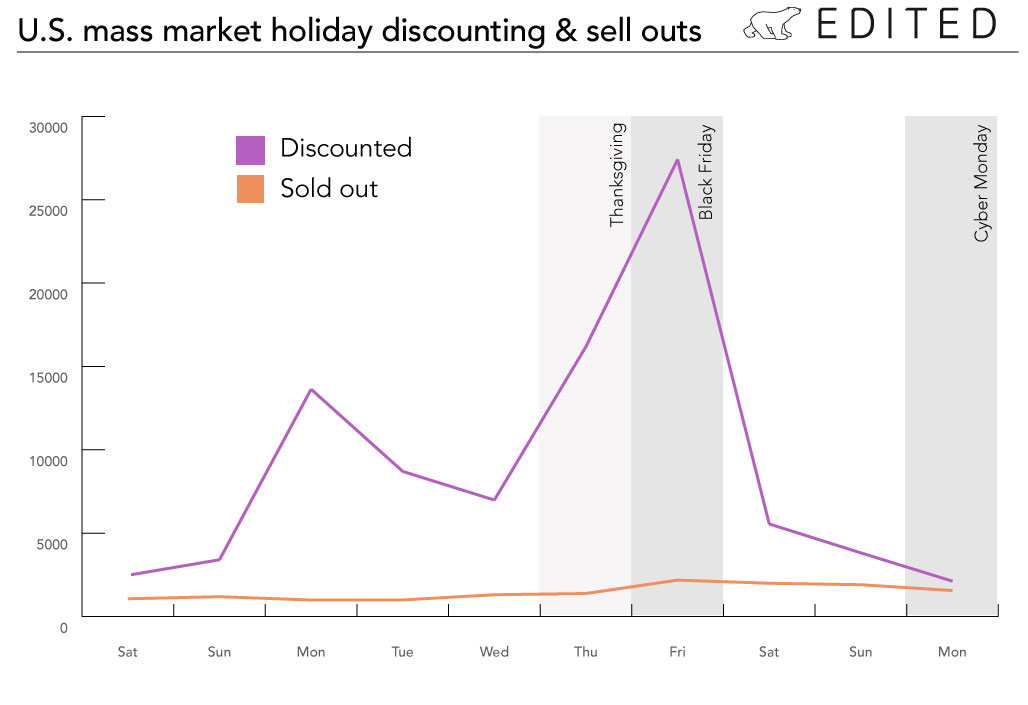 What about the U.K.?
Despite not celebrating the Thanksgiving holiday, the U.K. has been ramping up its Black Friday sales over the last few years. This year however, U.K. retailers reversed that trend by pulling back.
Overall 9.5% fewer products were discounted for the first time Tuesday through Monday compared to 2015. That didn't impact the number of items selling out however. There was a 0.4% increase in the number of products which sold out across the holiday. That's great news for U.K. retailers!
Some other key U.K. takeaways
On Black Friday, 52% of the mass market was discounted. That's a few percentage points higher than the U.S..
The average reduction on Black Friday itself in the U.K. was slightly less than in the U.S. – 37.3% vs 38.4%.
More products were discounted on the Thursday of Thanksgiving – an event the U.K. does not celebrate – than on Cyber Monday.
Sell outs peaked on the Saturday after Black Friday.
Who did what?
The mass market retailers who discounted the most products in the U.S. were Macy's (though site troubles likely impacted sales greatly), Zappos, Lord & Taylor, Zulily and Revolve. In U.S. luxury it was Farfetch (with more than 19,000 reductions), Barneys, Gilt and Net-a-Porter.
The most discounted luxury brands in the U.S. were Dolce & Gabbana, Saint Laurent and Alexander McQueen.
In the U.K. the biggest mass market discounters were ASOS, John Lewis, Debenhams, Zalando and Very.
In U.K. luxury The Outnet dropped the most prices, followed by Harrods and Accent Clothing. The most reduced brands were Ted Baker, Claudie Pierlot, Missoni and Maje.
Communications strategy
According to our Visual Merchandising software, the most mentioned reduction (on retailers' homepages and in newsletters, which accounts for discount codes applied at checkout) was 50% off, which peaked on Black Friday. Overall, 20% and 30% off discounts were more popular than 40% discounts.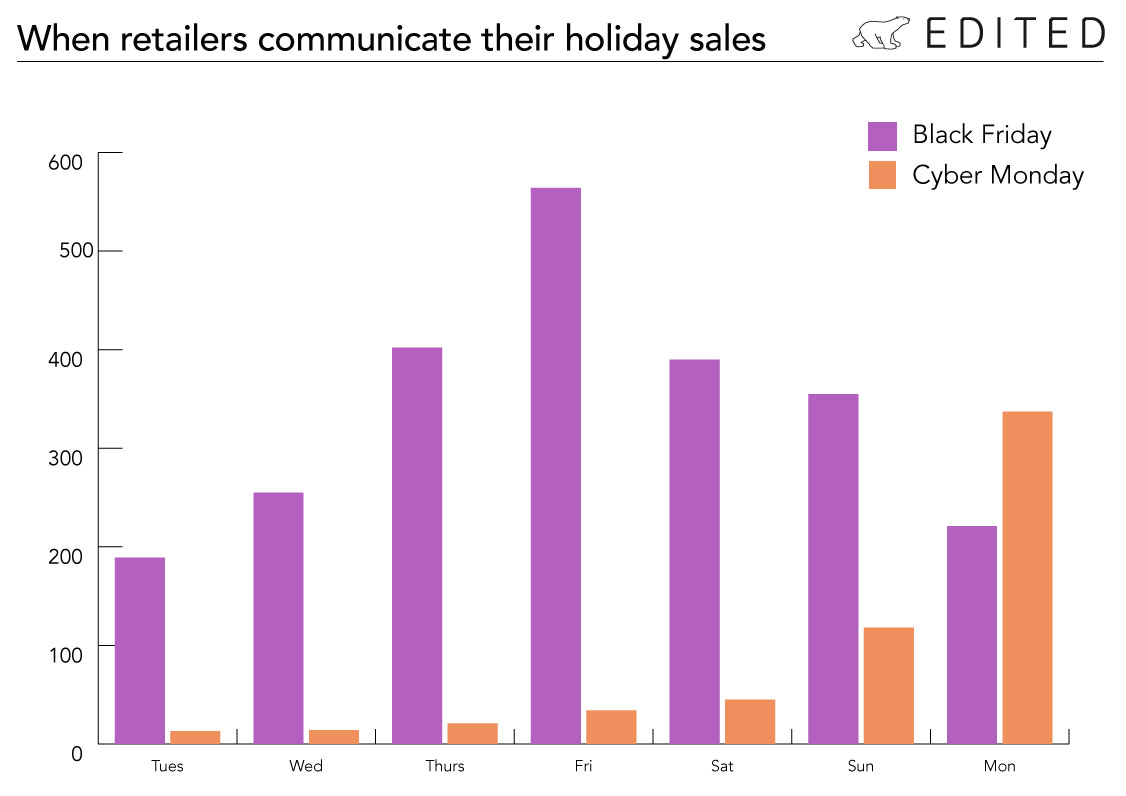 Despite Cyber Monday being the 'online' day, it's far less hyped than Black Friday in retailers' emails and on their homepages. The National Retail Federation's findings back that up: more Americans shopped online than in stores this Black Friday.
Many retailers continued to refer to Black Friday over the weekend and into Cyber Monday, despite the day itself having passed. 'Black Friday' is no longer a single day of discounts, instead it defines an almost week-long discounting event.
Consumers don't care whether they shop on the Friday, or Monday – they're just after the biggest price drop. The danger in Black Friday and Cyber Monday seeping out of their 24-hour confines is that consumers won't be motivated to shop and the ongoing discounting will discredit the perception of full price. To avoid discounting fatigue more retailers should consider timed sales.
Discounting discrepancy between U.S. and U.K.
Average reduction on women's dresses in the U.K. was 28% over the sales holiday versus 42% in the U.S.. The difference looked pretty similar across categories: coats dropped by 27% in the U.K. but 38% in the U.S.; footwear by 30% in the U.K. alongside 41% in the U.S.; sweaters dropped just 24% in the U.K. versus 40.5% in the U.S.
What sold best
Looking at reductions of 30% or less, Reformation's 30% discounts resonated – all 150 products discounted by that amount on Black Friday sold out the same day. Hollister's sub 30% discounts also sold out. Aside from that, in the U.S. footwear sold well. In the U.K. accessories, tops and outerwear, specifically winter coats and bags.
What didn't work
And then there's the stuff that just didn't sell, despite having discounts of 75% or more applied. In the U.S. that included jewelry and watches, notably the mass discounts at Bluefly, which didn't result in sell outs.
In the U.K. that meant asymmetric dresses, skirts with a strong print and the largest and smallest sizes in shoes, swim and bras.
Retailers who abstained
Of course, discounting isn't for everyone. Patagonia refused to discount and instead promised to donate 100% of its Black Friday sales to environmental causes. They made $10 million on Black Friday – five times their own projections. Everlane too chose social conscience over deep discounts – donating part of their proceeds to buy scooter helmets for its Vietnamese factory workers.
A loyal customer base and a strong brand story really does connect.