"Lousy" was how J.Crew's CEO, Mickey Drexler, described the retailer's 2014. Their fourth quarter results saw comparable sales decline by 3% – problems which stem from the retailer's womenswear collection.
In June of last year, we revealed that J.Crew's struggles were related to their misplaced product.
Drexler said that women's business has been "challenging" and mentioned fixes he's put into place to get womenswear back on track.
Our retail data confirm that the J.Crew is heading in a better direction, focusing on their core customers. However, they're still discounting too much; 53% compared to the US premium market average of 27%. So what have they done to improve?
1. Product
With their weak pants offering last year and issues with fit, J.Crew is looking to return to well-loved classics this year. Looking back to April 2014, among the products with the highest levels of discounting (and were never replenished), 30% were pants and 23% were dresses. Included in the unsuccessful pants were shiny jacquards in neon tropical and floral prints and broken-in boyfriend jeans. J.Crew have stripped these back so far in 2015, with none of the aggressive bold prints and fewer pairs in problematic high-shine fabrics. There's no use of overly distressed or patched denim.
Instead, the brand has introduced new styles in the Martie and Ryder, with a focus on fit.There are wool sweatpants, which are a mainstream style, but with a quality fabric edge; fast-fashion would struggle to emulate them. They have introduced a pre-order of a boyfriend-fit chino, which feels like a new style that J.Crew can own.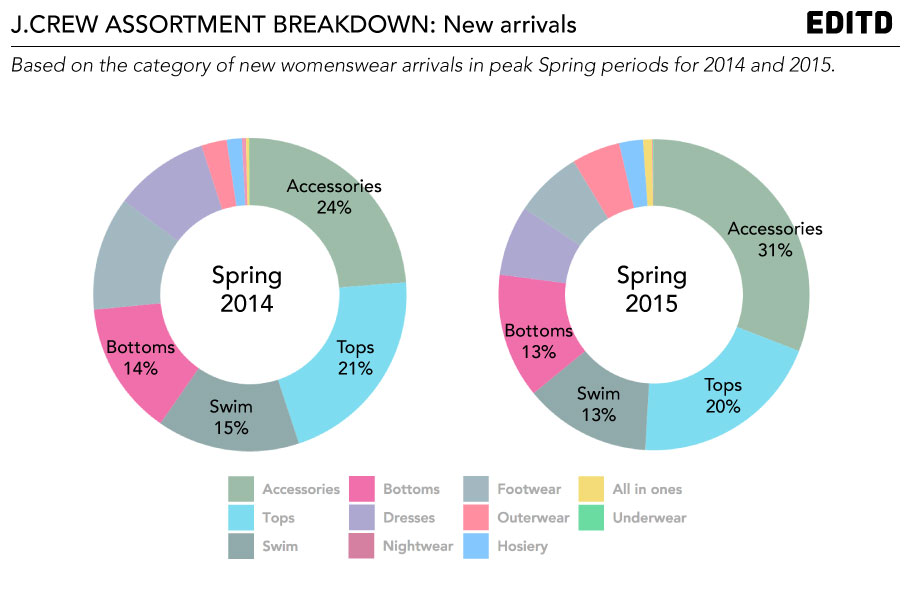 J.Crew have put greater emphasis on their accessories, which grew by 7% in new arrivals compared to 2014. While the three next biggest categories haven't been greatly affected in their balance (tops, swim, bottoms), dresses have grown and there's a greater overall balance across categories.
The new direction is working. Looking at the items, which arrived for Spring 2015 and are already selling well, we can see the Stretch vintage bootcut cord, at $79.50 has already sold out. This was a style first seen in April 2013 (at $69.99) and is now returning "with slightly less flare for a more modern look". Updated classics works.
There's also a twill-stripe tux pant, which has been revisited, in gray and white at $158. The style arrived online on January 28 and the majority of sizes were sold out by February 22. Launched at $225, they only sold on discounted price of $159. It's good to see the brand reacting to that price testing. The slim pants are designed "with a flattering, higher rise".
2. Pricing
J.Crew have a stable and well-balanced price architecture, with a good level of entry range price points and a steady build into the further ranges. In Spring 2015, the median price of new arrivals has dipped by 2% compared to one year ago, and there's a slight lean away from some top end pricing. There is still too much discounting however, with 53% of products currently reduced (the average for the US premium market currently is 27%). The average J.Crew discount applied to those products is 18.5%.
The median price of Spring 2015 new arrivals has dipped by 2% compared to one year ago.
Clearly J.Crew need to ease away from last year's wrong product choices gently – dramatic price slashes would alienate the customer base and do lasting damage. It would be beneficial to see that discounting rate drives down gradually over the next 6-12 months.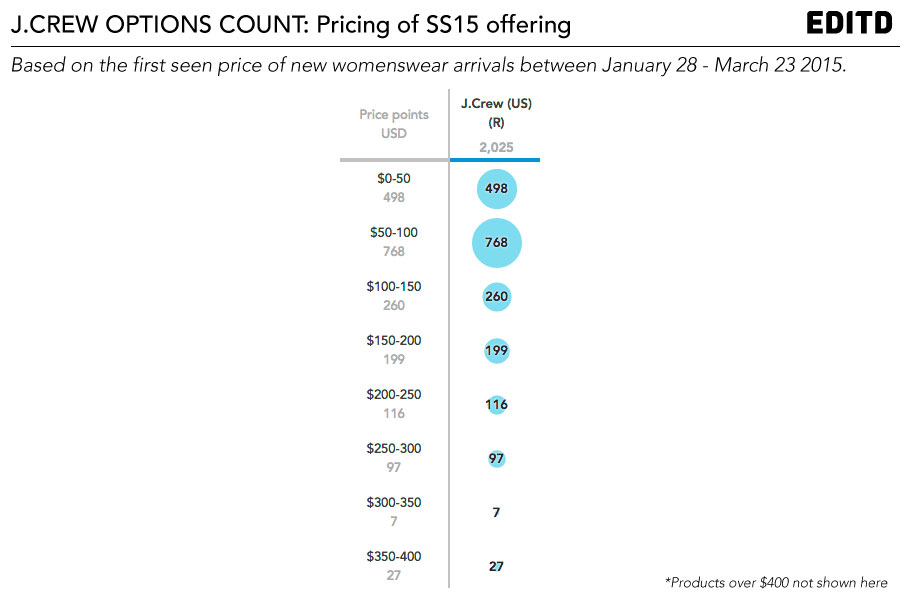 3. Color
Analyzing this Spring's new arrivals by color shows that J.Crew really have acted upon their promise of a more balanced offering. They've eased off on the neon brights of last year – got rid of lime and paired back on aqua and orange. This year, J.Crew have increased their navy offering, which is in line with their classic, preppy customer. They've increased on lilac, to compliment the existing use of pink, and have added to the neutral tones with biscuit, oatmeal and blush.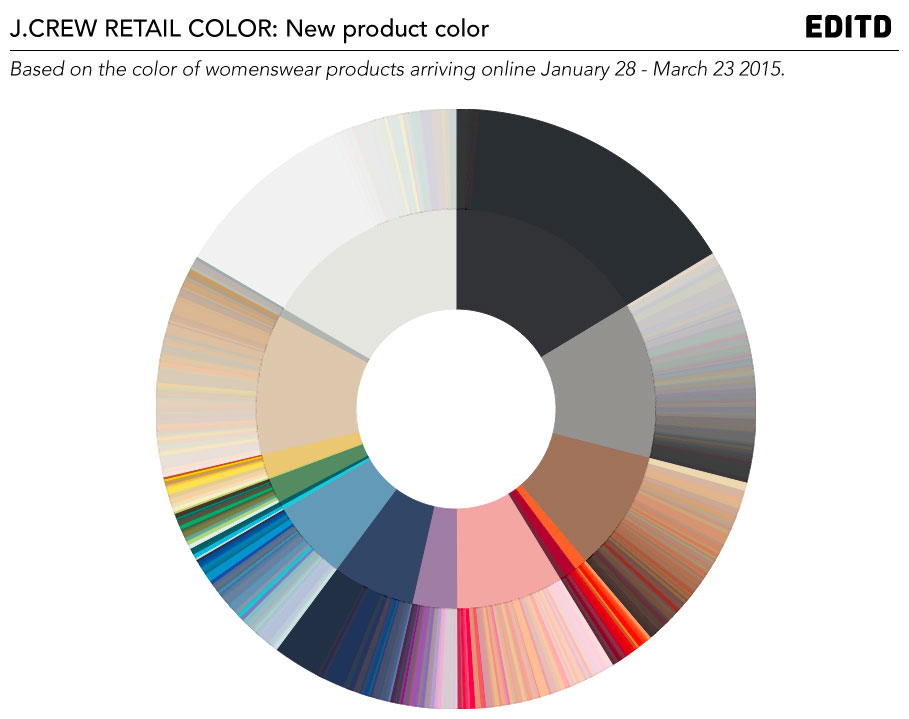 4. Timing
Some of the biggest cracks in J.Crew's retailing lie in their erratic retail calendar. Looking at the number of new womenswear products they bring online each month shows that Spring 2014 was a disaster – with incredibly low rates of newness in January through March, and a huge delivery in April. In a crowded marketplace, an even spread of newness is what returns customers to stores and makes content engaging.
In a crowded marketplace, an even spread of newness is what returns customers to stores.
There has been a little more consistency since July, with a minimum of 250 new products a month, and a maximum of 600. New stock has arrived every three to four weeks, added to the retailer's site on Wednesdays. To get back on track, J.Crew have to cut out any erratic behaviour, such as that highlighted by the below graph. Customers need to know what to expect and even the most loyal shopper would stray after two stagnant months.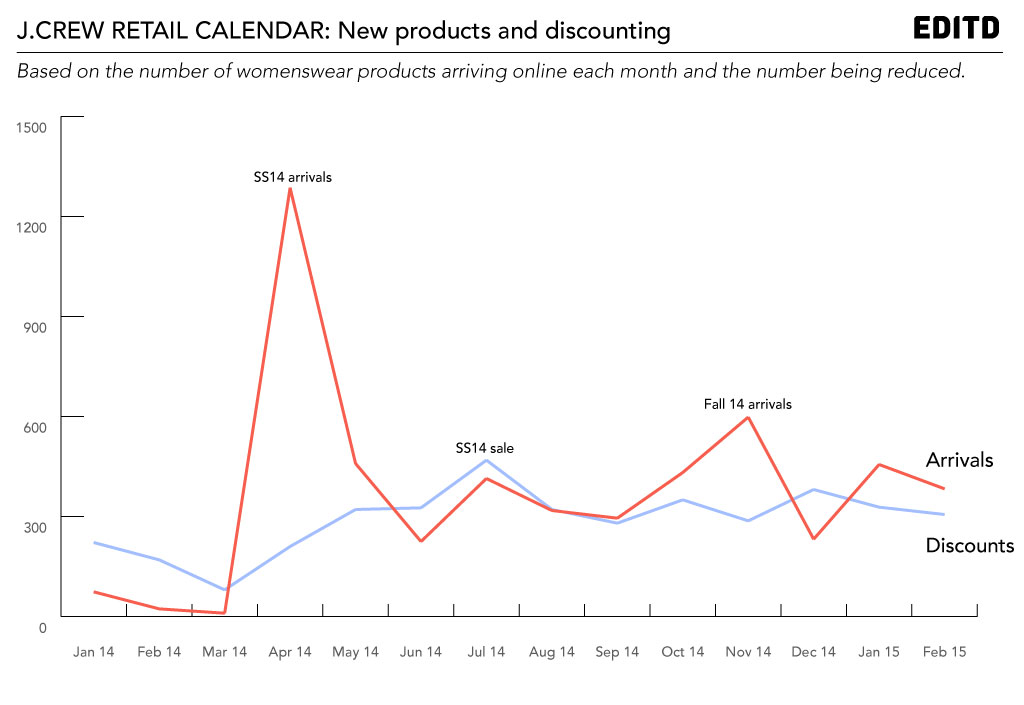 5. Communications
J.Crew's 2014 campaigns featured too heavily on slogan tees and sports luxe items readily available on the mass market at lower prices. Outfits were styled with baseball caps, and the overall messaging was very athletic. This wasn't the right path to J.Crew's customer: sporty and functional styles are certainly an undertone, but they are not the trend story. Instead, the J.Crew customer takes sports-edged pieces and styles them with bold jewellery and accessories and uses unexpected pairings of casual fabrics with special fabrics. At no point is this destined for the track or field.
Recent email campaigns have focused on upselling the accessories category (which is in line with their product strategy) and reiterating their message around fit of pants. "Because fit is everything" and "Life is too short for ill-fitting clothes" were both lines used in emails this March.
J.Crew: "Life is too short for ill-fitting clothes"
J.Crew are certainly heading in a better direction, steering away from the mass market, and thinking more carefully about their own customer. By continuing to be nimble with their pricing J.Crew can drive the problematic discounting down and optimize on the success of new lines.
[editd-banner image="https://edited.com/blog/wp-content/uploads/2015/03/History_calendar-view.png" header="Want to know more about how EDITD can help your business?"]Request a live demo with one of our product specialists.[/editd-banner]